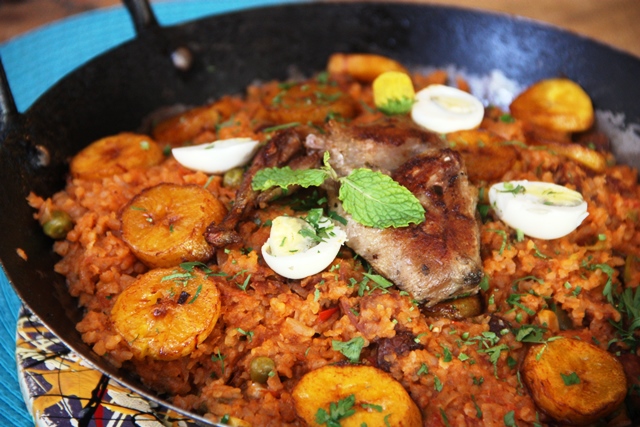 by Chef Andre Generoso – in referente to Brazilian cuisine
When I was in college, I always had to cook what we had inside the house, in the garden, fridge or in the small pantry, which were generally very scarce.
One day I read about a recipe from the south of the country, a very regional one that was "Rice from poor China". Legend has it that people, after a night out in Cabaret, hunger beat and they made this dish that only took rice and colonial sausage.

With the migration of the Gaúchos to the central west, other ingredients were incorporated and its name changed to "Rice from rich Puta". I decided to adapt the recipe here to the northeast by adding products from the regional gastronomy.
And so "Rice from rich Quenga" (Quenga Rica Rice) was born, which has been served for 18 years in my restaurant Divina Gula, in Maceió / AL.
*China, Puta and Quenga have the same meaning – they are regional names given to prostitutes in different parts os the country
Quenga Rica Rice
INGREDIENTS
02 Slices of bacon
01 tablespoon of olive oil
½ chopped pepper
01 large onion
100g sliced ​​pepperoni sausage
100g of homemade sausage
100g of smoked sausage
200g of free range chicken
150g diced and minced meat
100g pork ribs
03 garlic cloves
1.5 cup of rice
1/2 cup of corn 1/2 cup of peas
10 chopped green olives
50g pitted raisins
150g skinless tomatoes and seeds
01 Grilled quail
METHOD:
1- Place a large casserole over high heat adding the bacon, the oil until golden, add the fresh sausage and the chicken stirring until golden. Add the rest of the meat and continue stirring until browned to add the rice.
2- Add to this stew, garlic, onion, pepper and finally the tomato, letting it sauté a little longer.
3- Cover with boiling water, season with salt and pepper, cover. Partially the pan and simmer until the meat is tender. If you need to add more boiling water gradually.
4- While the rice is cooking, grill the quail with oil and salt and set aside.
5- At the end of cooking add the corn, peas, olives, raisins and rice. Place the quail on top and serve.